The specialized RD RO is used for highly polluted waste water treatment / reuse with high efficiency and can handle high TDS, COD, BOD in the effluent.
The module is vertically mounted with octagonal membrane cushions and round hydraulic disc (ABS). It is an open channel feed flow system and can take higher TSS / SDI. Permeate is taken out from the centre from each individual membrane cushion. The module has top & bottom end flanges with Lip seals. The outer cover comprises of FRP vessel.
Advantages
Can handle high TDS, COD, BOD, SDI
Offer Higher Recovery
Higher Pressure available 60,75, 90, 120 Bar
Less susceptible to fouling and scaling
Modules are easy to clean & maintain
Easy Replacement of Membrane cushions
RDRO Applications
Effluents in

Pharma & Chemicals
Distilleries & Breweries
Textiles
Tanneries
Dyes & Pigments
Pesticides & Fertilizers
Automobiles & Paints
Distilleries & Breweries
Electroplating
Starch
Refineries & Petrochemicals

Existing RO rejects
Leachate
Desalination
Brackish Water/ Grey Water/ Ground Water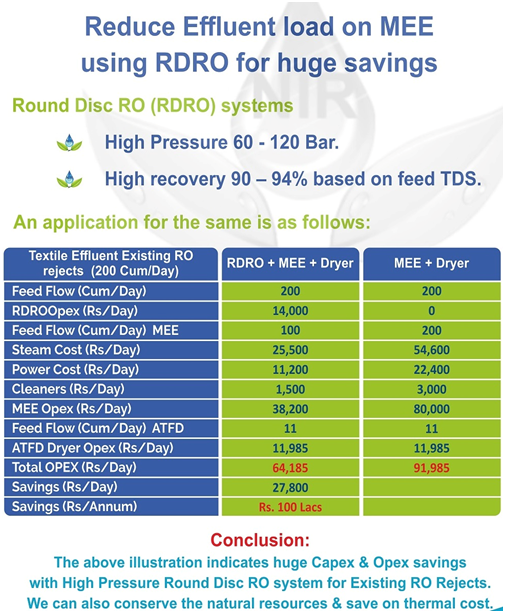 Note: The estimates are tentative. May vary based on onsite conditions & input costs.